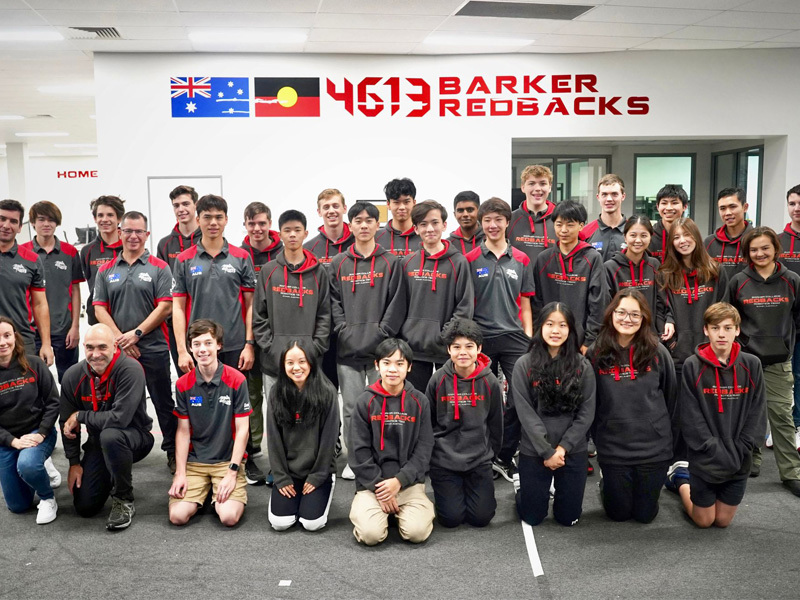 The culmination of the Robotics season took place on the world stage in Dallas in April and May, with Barker teams competing, for the first time, in each of the championship events – FRC World Championship, VEX VRC World Championship High School Division and VEX IQ World Championship Elementary School Division.
The Barker Redbacks continued this year's strong competitive run, progressing through to the Divisional Final at the World Championships and finishing the competition effectively top 16 in the world standings. The VEX VRC Competition, that followed, is for High School age students and puts much smaller robots against each other in simpler matches.
Ten of our students from Years 9 to 11, competed after the team qualified 1st in Australia. There were 800 teams competing from around the world, with Barker participating in the Art Division against 100 other teams. The scale of this competition is immense and vast with Barker's team the last remaining Australian team.
"We regard this as a kind of "nursery" for our Robotics program, which reaches its peak with the self-designed FRC Robot in the Upper school." Phillip Heath explained. "Our students have once again performed exceptionally well, as the only Australian team to reach the semi-finals in this world competition."
The final competition saw six of our students from Dhupuma Barker in North East Arnhem Land, compete as the first ever Australian Indigenous team, the first from NT and the first from Remote Australia as they participated in the World VEX IQ Championships.
The Dhupuma Barker Djirrikitj Firebirds surpassing all expectations. They were ranked 40th in their Division of 80 teams, one of ten Divisions in the World Competition. A casual glance at the scores and the averages revealed that they were ranked very much in the top half of the Competition, which is an astonishing achievement for students who only discovered robotics in August 2020 and operate the only robot in North East Arnhem Land.
They were so brave throughout their eleven matches and they remained strongly in contention for a top thirty finish.
"It made a powerful impact on me to move around the competition, watching the various teams from different enterprises and academies (but curiously not so many school teams)," Phillip Heath shared.
"Here were children of Primary School age, supported by their passionately enthusiastic parents who cheered every moment as if for a soccer match. Scarcely more than ten years of age, the students were "driving" their robots to meet a range of complex tasks to score points within the allotted one minute of game time. With over 800 teams, there were around 6000 competitors and their families who assembled in Dallas to pit their skills against one another."
In every way, we are supporting our students to lift their sights onto bigger stages than our local region of Sydney. Barker students, including our Indigenous children, can stand with the world and have gracious confidence in their abilities.